Little Britain Preparative: Orthodox (historic)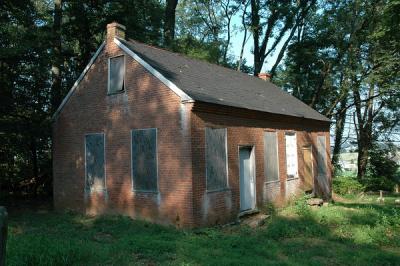 Built in 1840 by the Orthodox branch of the original Little Britain Preparative. Around 1857 another split took place within the Orthodox branch and this meeting became part of the Primitive Friends, being known then as Little Britain Particular Meeting. In 1864, the Baltimore Yearly Meeting of Primitive Friends set it up as a Monthly Meeting, until the Yearly Meeting was discontinued in 1868 and its meetings transferred to Fallsington General Meeting (Primitive). At that time, the meeting became a Particular meeting once more, under the newly formed Nottingham-Little Britain Monthly Meeting (Primitive.) The meeting was laid down in 1890, its members transferred to Philadelphia Month meeting (Primitive).
The meeting was often known as Ballance meeting because it originally met in the home of Joseph Ballance.
The meeting house and burial ground is currently under the care of Little Britain Monthly as there are no longer any Primitive Friends left in the area.