Colora Meeting (historic)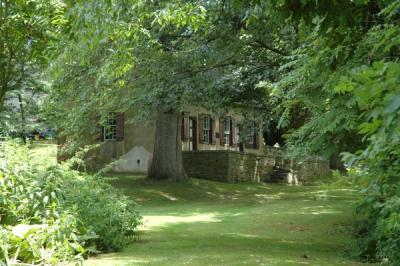 Corncake Row, Colora, Cecil County, MD
The history of Colora is a bit hard to decipher. A listing for the structure on the Maryland Historical Trust site states: "The Colora Meeting House was built in 1841 because of a doctrinal division in West Nottingham Friends Meeting."
A listing discussing the Primitive Friends meetings regarding a Nottingham Monthly Meeting states "Meetings were held alternately in the Nottingham and Little Britain meeting houses, located respectively in Colora, Cecil County, Md., and Ballance's located in Lancaster County, Pennsylvania."
In 1945, Colora Monthly was established by Western Quarterly out of Colora Preparative meeting of New Garden Monthly. This meeting was discontinued in 1980, and a second Colora Preparative meeting was established, subordinate to West Grove Monthly. This second meeting was discontinued in 1983.
T. C. Matlack, the Quaker historian, writing in the mid 1930's, described Colora as follows:
Colora is a Particular Meeting belonging to New Garden Monthly in the Western Quarter of Philadelphia Yearly Meeting.

Anne Balderson of Colora, Md., in 1920, wrote:

"At the time of the Great Separation in the Society of Friends in the first quarter of last century, West Nottingham Meeting in Cecil County, Md., was so unequally divided as to make it a matter of years before the Orthodox remant built themselves a house. The coming of some additional Friends of similar faith led up to this and the present stone meetighouse was erected as early as 1841, some finishing touches being added by a late generation. The ground on which it stands, as well as that for a school house, and also a burial ground, was given by the Waring family, residing then on the land of which this was a part.

Circumstance led, in the course of years, to the uniting of this meeting to that part of the Western Quarter of Philadelphia Meeting. In order to have a name by which the new preparative meeting be easily located, the name of the newly established R.R. station, Colora, was adopted."
Currently the meetinghouse is open once a year in September.