Chester Monthly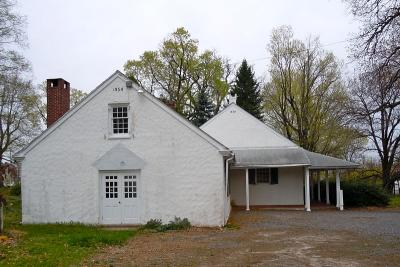 Established in 1681 as Upland Monthly by Burlington Monthly of New Jersey, after having functioned as a meeting for worship since 1675. In 1711, the meeting's name was changed to Chester Monthly. Until 1700 meetings were held in the homes of the members , but after that time, the meetings were held mostly in the Providence meeting house.
Component meetings (pre-Separation and Orthodox) were Springfield Preparative, Chester Preparative, Providence Preparative, Middletown Preparative, Media Preparative and Media-Springfield Preparative. In 1952, Chester Monthly became a United Meeting by affiliating with both branches of Concord Quarterly and in 1955 was transferred to the newly formed Chester Quarterly Meeting. At this point, the meeting's name was changed to Media Monthly Meeting and is still an active meeting, located in Media. The Hicksite branch meetings were: Chester Preparative, Springfield Preparative, Middletown Preparative and Providence Preparative.
The Hicksite branch was discontinued in 1934 and its two preparative meetings, Chester and Providence became monthly meetings. Providence assumed the business of the parent meeting and Chester became the modern Chester Monthly meeting. Chester Monthly merged in 1948 with the former Hicksite Chester Preparative Meeting (24th Street) to form a united Chester Monthly Meeting and was transferred to Chester Quarterly in 1955. This active meeting is located at 520 E. 24th Street in Chester, Delaware County, PA.
Location
24th and Chestnut
Chester
,
PA