Uwchlan Monthly (Downingtown Friends)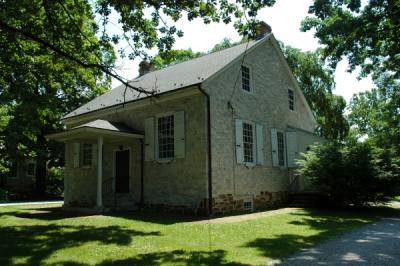 Set up in 1763 by Chester Quarterly and transferred to Caln Quarterly in 1800. From 1763 until 1884 meetings were held in the meeting house which was owned jointly by both branches of the Uwchlan Preparative meeting, except for six months during 1778 when they were held in the Nantmeal Preparative meeting house. From 1884 until 1890, meetings alternated between Uwchlan Preparative and Downingtown Preparative's meeting houses. Since 1900 the meetings have been held solely at the Downingtown meeting house.
At the time of the WPA of the Pennsylvania Friends' holdings, Uwchlan Monthly was listed as being in charge of the burial grounds at Uwchlan, Downingtown and Nantmeal. Component meetings (both pre-Separation and Orthodox) were Downingtown Indulged, Downingtown Preparative, Nantmeal Preparative, Pikeland Indulged, Pikeland Preparative, Uwchlan Indulged and Uwchlan Preparative.
After the split, the Hicksite component meetings were: Nantmeal Preparative, Pikeland Indulged (Kimberton), Pikeland Preparative and Uwchlan Preparative. The meeting house in Downingtown is the modern home of Uwchlan Monthly. The meeting is more commonly known as Downingtown now.
Location
800 E. Lancaster Ave.
Downingtown
,
PA
19335