Bush Creek Preparative (historic)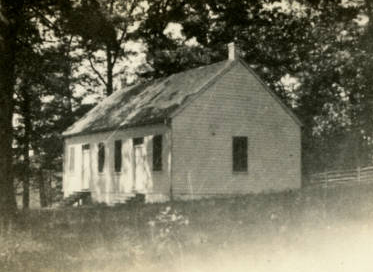 The Bush River meeting house is gone but in the woods just north of the railroad tracks in Monrovia, the burial grounds remain in fairly good condition.
A minute recorded at London Grove, 5 mo. 21, 1764 deals with the setlement of Bush Creek Meeting; -- " The request from Fairfax Mo. Meeting before the Quarter, and also renewed again now, was considered, with two other matters from the same mo. meeting, also introduced by their Report now, viz., first "The State of Monoquesy Meeting which doth not appear to be reputably kept up, there being but one family wholly Members belonging thereto; 2ndly A Proposal for the settlement of a Meeting at Bush Creek in Maryland the Friends there having been indulged by Fairfax Mo. Meeting with the Privilege of holding meetings several years; and now request it may be settled by the Quarterly Meeting, they having proceeded so far as to build a house;" Therefore it is concluded to refer each of those matters to the following committee: Swithin Chandler, Issac Whitelock, Andrew Moore, Isaac Jackson & David Brown, whom this meeting appoints to visit Fairfax Mo. Meeting with the Friends of Monoquesy and Bush Creek aforesaid, and give such advice and assistance in each of those matters, on Behalf of this Meeting, as best wisdom may direct them, and make report of their Care, with their sense and judgement in each case in working to next Quarterly Meeting, or when complyed with."1<
The original log meeting house was replaced in 1852 by the frame structure shown, which was destroyed by fire in the early 1900's.
Location
off of Green Valley Road
Monrovia
,
MD